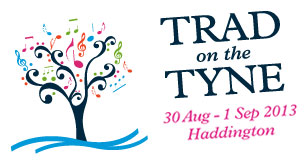 Posted: 23rd July 2013
The 2012 Trad On The Tyne Music Festival has been shortlisted again for Best Small Festival In Scotland title in the Scottish Event Awards.
This is the second year running that the festival has been shortlisted.
The headline event at the 2012 festival in Haddington was Steele The Show, the outstanding tribute concert to the late, great Prestonpans singer and songwriter Davy Steele, who died in 2001.
Ian Green (Greentrax MD) is the Honorary President of the festival.