Kathleen MacInnes at The Queen's Hall, Edinburgh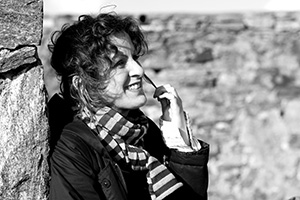 Posted: 26th September 2012
Gaelic singer Kathleen MacInnes will be making a special guest appearance at Duncan Chisholm's Affric album launch concert at Edinburgh Queen's Hall on Friday 5th October 2012.
Kathleen will be known to Greentrax customers as a Scottish singer, television presenter and actress, who performs primarily in Scottish Gaelic. She is a native of South Uist, Outer Hebrides and lives in Glasgow with her partner and three sons.
In 2010, she appeared on the soundtrack to the Ridley Scott film Robin Hood. Scotland On Sunday awarded her debut album Og-Mhadainn Shamhraidh (Summer Dawn) as Best Folk Album - this was released by Greentrax in 2006 and will be available at the concert.
She was recently featured in the Transatlantic Sessions 5 series, along with Aly Bain, Jerry Douglas and other folk luminaries.
Kathleen will be joined by Boys Of The Lough founder member Cathal McConnell, Griogair Labhruidh and Allan Henderson.
"She has unique vocal colour and an ability to breathe dramatic life into her songs…" (Norman Chalmers)
Book tickets for Duncan Chisholm and Kathleen MacInnes at The Queen's Hall.