Ian Green's autobiography: 'Fuzz To Folk - Trax Of My Life'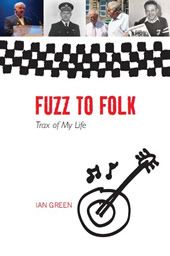 Posted: 1st January 2011
Greentrax Recordings managing director Ian Green's autobiography Fuzz To Folk - Trax Of My Life is now available.
It is published by the respected Edinburgh publisher Luath Press and is available from Music Scotland, Waterstone's Books and Amazon.co.uk. Also available direct from Greentrax.
It has been Book Of The Month (April 2011) in The Scots Magazine, and has also been selected as one of the books in the 2011 Scottish Libraries Summer Reads promotion, so will be available in every Scottish library. The promotion will be launched on The Reading Agency's National Readers' Day on 25th June, and will finish in September.
The release date of January 2011 was also the 25th anniversary of Greentrax Recordings. Ian says, 'I found it not only cathartic but also a fascinating journey of rediscovery'. The book contains some 120,000 words and Ian jokes that 'he didn't realise he knew that many'! The book also includes many photos and other interesting images spanning Ian's busy life from birth on the 29th January, 1934, in Forres, Morayshire to the present day, managing Greentrax Recordings Ltd in Cockenzie, East Lothian.
The autobiography tells of Ian's life in many locations in rural Morayshire, including life under a disciplinarian schoolteacher who was not afraid to use the 'tawse' on his pupils on a daily basis. His constantly interrupted education finished at Tynecastle Secondary School, Edinburgh, and thereafter Ian became an apprentice gardener under his father at the Convent of The Sacred Heart / Craiglockhart Training College, Edinburgh.
Ian describes sporting success in cycle speedway before signing on for three years in the Army where he served as a motor mechanic in the REME, spending almost two years in Korea and Japan. On being demobbed with the rank of full corporal, Ian had yet another career change and joined Edinburgh City Police, later to become Lothian and Borders Police, where Ian had a distinguished career.
After thirty years' service Ian retired as a police inspector and, having spent a lot of energy on Scottish traditional music during those years, it seemed logical for Ian to embark on a career in the music business. In 1986 he launched Greentrax Recordings which has become one of the most successful independent record labels in the United Kingdom, specialising in Scottish traditional music.
During his police years Ian married June and brought up a family of three, yet found time to represent Scotland in the annual Angling International against England, Ireland and Wales, grow prize-winning chrysanthemums and brew and ferment award-winning beers and wines respectively.
Many awards have been bestowed on Greentrax and Ian himself, including the Hamish Henderson Award For Services To Traditional Music, plus entry into The Hall of Fame at the Scots Trad Awards, culminating with an Honorary Doctorate from the Royal Scottish Academy of Music and Drama. Ian and the work of Greentrax was also the subject of an STV documentary.
Ian continues to enjoy managing Greentrax Recordings, despite attaining the age of 76 years in 2010, and has no plans for retirement.
Excerpts from Amazon.co.uk Five Star and other reviews:
"This hilarious book tells entertainingly of his life so far. A terrific read." (Scott Murray)
"This is a remarkable book. He has produced an archival document that rivals the best and yet, at the same time he's managed to conjure up a 'bloody good read'. Well done Mr Green!" (McCalman)
"This is one of the most honest, informative and entertaining works I have ever read. At times Ian Green writes with an honesty that is infrequently found these days. At times heart-rending, at times funny, sometimes controversial, sometimes intriguing – but always hugely interesting." (Fiona J)
"Never have I read an autobiography which combined such a mix of sometimes very personal information, plugs for products and rumbustious criticism of people and organisations who have displeased him. One night I could not put it down until 2.00am. A great read." (Chon)
"A really enjoyable read. I particularly enjoyed the way the author personalised the book with little comments to people past and present. I highly recommend it." (Karmel Bogle)
"An immensely enjoyable book. The stories had me in stitches! In well chosen words Ian tells it exactly as it was in a language we can relate to and with such brutal honesty and great humour. A wonderful book which I will treasure and refer back to in years to come." (Mary K Burke)
"The book not only tells of the label (Greentrax), but of the soldier, policeman, family man and friend behind it. The style is so well judged and reflects Ian's conversational style so perfectly that you feel you have had a wonderful evening of chat with the man." (N D Keir)
"This is an outstanding read. An autobiography of an interesting and varied life, honestly told and written in a readable and straightforward manner. Difficult to put down." (May)
"Very informative, wide ranging. No airs and graces – the story is told from the soul which makes it interesting and exciting as well as being easy to read and understand." (Rob Roy)
"Fuzz To Folk is the Scots Magazine 'Book of the Month' for April, 2011. The reviewer said it 'hits the right notes'." (C C Mack)
"Just wanted to say congratulations on the book which I've really enjoyed reading. Your account (of the Police) gives something of the flavour of the time." (Dave Francis)
"I've read your book and enjoyed it. It was the perfect excuse to wallow in warmth during the bad weather with a good book." (Mary Duff)
"An excellent book, written with great honesty." (Bruce MacGregor, BBC Radio Scotland's Music Café)
"I read it all at the one sitting and thoroughly enjoyed it. Brilliant." (Frieda Bayne)
"What a bloody good read, Ian." (Brian McNeill)
"Just a note to say how good your book is. The castor came off our bed and behold it was the perfect height… my mother couldn't reach the top cupboard and guess what… your book! Seriously, it's a great read and insight into an amazing and adventurous journey." (Alex Hodgson)
"I thoroughly enjoyed your book… well done for remembering all those things." (Chris M Ross)
"I really enjoyed the book… what an interesting and exciting life you have had." (Cath Mattingly)
"Congratulations on the book. Must have been at times interesting and an uplifting experience for you in writing it, and no doubt a bit confrontational and disturbing as well… not to mention exhausting." (Eric Bogle)
"I devoured it in a 'wanner'… you write like you talk – straight and honest – just hope there's no libel suits on the way!" (Ed Miller)
"Enjoying your book very much. You are in Korea at the moment!" (Bob Buchan)
"Just finished reading your autobiography – a great read. Was so impressed with Chapter 13 felt I must purchase 'Far, Far From Ypres'." (Peter D Wright)
"Thoroughly enjoyed the book. I surprised myself in a way. I thought I would avidly read every word of the 'music section' but found I really enjoyed every word of the other sections. Congratulations on a mammoth task undertaken and completed with such openness and humour, 'warts (and piles) and all'." (Jack Scott)
"Ian Green's autobiography makes a great and varied read. The story of a man of all trades – founder of Greentrax, Scotland's most successful and one of the world's greatest folk music labels, successful gardener, and mechanic serving in Korea, policeman, angler and more." (Michael Moll, Folk World)
"Just finished reading your memoirs. Well done Sir. Nicely written and can't disagree with a word in the Oration for your Hon Doctorate." (Dr Gordon Prestoungrange)
"I bought my wife your book for her birthday and she's thoroughly enjoyed it." (Robin Dempsey)
"I am in awe at the depth and detail of your work – it really gives your life and times their due." (John Munro)
"It does tell the intriguing tale of a self-confessed 'wee ragamuffin loon' from the backwoods of Moray, who left school at 15 and ended with an honorary degree of Doctor of Music from the Royal Scottish Academy of Music and Drama, for services to Scottish music." (Jim Gilchrist, The Scotsman)
"The life of Ian Green is certainly a packed one… there's a remarkable story to be told as Green strolls through his life to the point where he founded Greentrax, the folk record company which has housed the diverse likes of Salsa Celtica and The McCalmans." (Brian Donaldson, The List)
"I read it from cover to cover and thoroughly enjoyed it." (Peter Heywood)
"I would just like to take this opportunity to thank you for taking part in 'Take The Floor'. Your chat with Robbie (Shepherd), on your career and your book was just excellent, with the music complimenting the chat perfectly. We have had a lovely response from our listeners." (Jennifer Cruickshank, producer 'Take The Floor')