BBC Alba Broadcast Of Gordon Duncan Programmes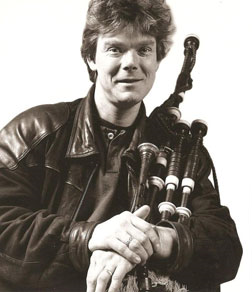 Posted: 19th September 2012
BBC Alba TV has broadcast two wonderful tributes to Gordon Duncan this year.
Dha Gordon a-mhain (Just for Gordon) was a documentary about Gordon's life, and his tunes which became a mainstay of the Scottish traditional music repertoire. It featured the musicians that knew and played with him, and those who continue to be inspired by his music, particularly his own pupils.
Cuirm-Ciuil dha Gordon Duncan (A National Treasure) featured performances from the fourth concert held in Gordon's memory, in Perth in 2010, from Seamus Begley and Tim Edey, Willie MacCallum, Old Blind Dogs, Galician piper Xose Manuel Budino, The Pitlochry and Blair Atholl Pipe Band and the Gordy Duncan Jr Band.