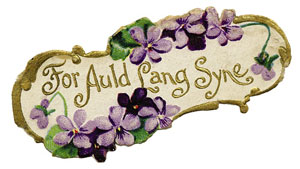 Posted: 7th January 2014
Dougie Vipond presented a programme on BBC TV Scotland over the festive period in which he examined the Robert Burns song Auld Lang Syne in depth. By coincidence he featured an Indian recording of the song, similar to the Bengali version included on our album The Scottish Diaspora. Vipond also travelled to Japan and visited a department store at closing time, when Auld Lang Syne is played over the tannoy, as in all such stores, to warn customers that shopping has ended for the day. This information is also included in the sleeve notes to The Scottish Diaspora. One of Dougie's guests was Tony Roper who stated that his favourite recorded version of Auld Lang Syne is by Mairi Campbell of The Cast (also included on the Diaspora album and of course part of the Sex And The City movie soundtrack).
Discussion also centered around why so many people wrongly sing Zyne instead of Syne.